Since 1993 Guido's has made every menu item fresh to order. We make our own dough, grate the cheese, slice the vegetables, and blend our sauce fresh every day! With two savory sauces to choose from: Guido's Original or Spicy Fire Roasted your Guido's pizza will hit the spot every time.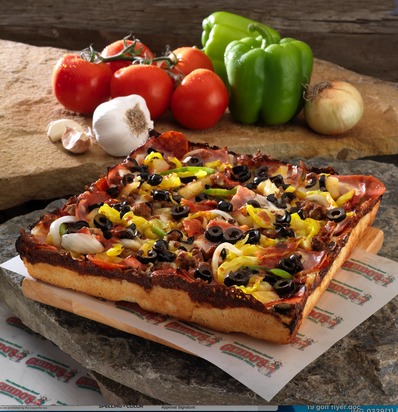 At Guido's Pizza you can choose your favorite crust: "Detroit Style" Deep Dish, Hand Tossed Round or Thin Crust. Then you can Choose your Sauce!: Original or Spicy Fire Roasted.
Build your own pizza or choose from a menu of Signature Specialty Pizzas including the award-winning "Hawaiian" and "BBQ Chicken" pizzas. We even offer our version of a Chicago Style pizza we call the "DaBoss" which comes with cheese, loaded with your favorite sauce, plus any 5 toppings for one low price!
We make the pizza you want!! No other pizzeria in town gives you so many choices! Order online or call us at 248-717-2222.
For Catering orders please call us and ask to speak with the manager. Guido's Gift Cards are available at the counter in any denomination and do not expire.

"Your Complete Satisfaction is my Goal!"
Del Yeoman, Owner